A MESSAGE FROM MAYOR TERRY CLARK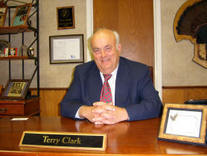 Welcome from all of us in East Brewton, Alabama! We are proud to call this wonderful small town our home! We have so much to give and to offer! Residents of our small town "Love it here", and over the years have made it a wonderful place to raise a family. Our neighborhoods provide an ideal atmosphere to relax and enjoy that "small town southern hospitality"! As a city that genuinely cares for its citizens, we are hoping that people will notice all that we have to offer.
Only 60 minutes from the beaches, we are aggressively seeking businesses to utilize the main corridor to the Gulf of Mexico, one of the busiest in south Alabama. With more than 15,000 vehicles passing through our town daily, we are looking to grow and improve an already wonderful way of life. We hope you will come live with us!
---
---

PLEASE VISIT THIS SITE IF YOU LOVE YOUR KIDS!!
---